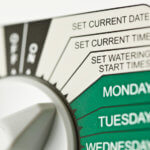 When I see the word 'custom', I tend to think of two things:  The dream of a client and the fulfillment of that dream.  When a new customer calls our phone and says he/she wants a new irrigation system, the very first thing we think about is "What is our client's dream and how can we best fulfill that?".
Quite honestly, most of the time our clients just want a green lawn.  Can't say I blame them.  But after some follow up questions, we really begin to understand what their dreams are and how we can be an integral part in fulfilling them.
When designing a new system, there are a lot of options to consider for a custom design.  Among those options are soil composition, shade vs sunny areas and plant material and how the choice of equipment used will work best with each one mentioned.  Those are kind of the boring options but are very important for the team at Flowcheck to consider.
The FUN custom design options however, include WIFI enabled timers, soil sensors (which wirelessly relay back to the timer how much moisture is in the lawn), rain sensors, drip irrigation and water efficient nozzles (ie. Hunter MP Rotators).  It can be overwhelming to a new client but we're experts in all things irrigation (it's ALL we do), so we always explain what each device does and how it can save the customer money on their water bills, etc…  Besides that, a WIFI timer is just cool!  Imagine being on vacation in Europe and deciding to water your lawn via a phone app.  You hit a few buttons and POOF!…the lawn gets watered.
We can even set up your timer to download the most current weather conditions in your area (known as a SMART Controller), which then, combined with your rain sensor and soil sensor, only applies the minimum amount of water needed to keep your garden looking beautiful.  The best part is you get to enjoy your yard and not have to worry about dragging hoses around all summer.  The timer/controller does everything for you thanks to your custom-designed irrigation system.
If you're considering installing a new system, now is the time to do it!  After we meet with you and discuss your dream yard, we'll custom design your irrigation system to fulfill your dreams.  Isn't this the year to make your dream a reality?  Call us Today!